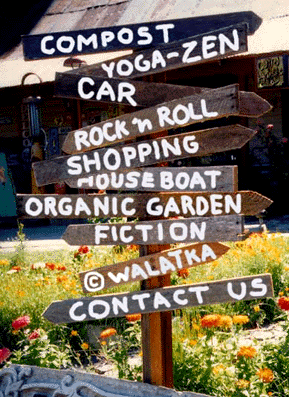 Clickable image. © Pam Walatka 1995, 2010. This imagemap was on the top page of our original site.

---

---
Email Pam Walatka
I launched wildhorses.com in 1995, named after a small company I shared with Sidney Damon and Laney Stephens.
In 2003, Sandy Johan redesigned and reorganized the site. We have followed her design in all our subsequent pages and sites.
In 2005 we started a second site: pamsyogafitness.com, which offers yoga-related short articles, updates about my class, free online yoga lessons and:
Peter's custom sports cars and hot rods,
Nancy's Yoga classes,
Susie's poetry,
Joe's classic rock and roll band.
Now we have added some other sites:
Esalen Photographs from the 1960s
Gestalt Golf
Lazy Compost
Red Lotus Threads Coming soon? Elder True Adventure.
I hope you enjoy these pages. Hello out there!
--Pam Portugal Walatka
---
Here are links to some of my work on other sites:
| | |
| --- | --- |
| | Hunh. My Patch columns are no longer searchable. |

In case you are wondering if I am the Pam you know, here is my bio in brief: Born in Santa Rosa, California in 1942, twin brother Peter and little sister Nancy. Santa Rosa High School class of 1960. U.C. Davis, 60-61. Grad U.C. Berkeley 1964. Peace Corps Nepal IV 64-65. Esalen Residential Program 1967-68. Started teaching Esalen's first yoga class 1968. Member, Esalen Flying Circus. Married Jerry Walatka 1982. Gave birth to Sarah Walatka 1984. Technical writer-editor for NASA 1987-2003, and 2012-2013. Bullis-Purissima PTA Board 1989-1996. Freelance writer for Los Altos Town Crier, 2005-2011. Columnist for Los Altos Patch 2010-2011. Yoga teacher at Los Altos Hills Rec. Dept. 2005-present. Yoga teacher at Los Gatos Saratoga Recreation 2012-present. All well here, hope same there.
---