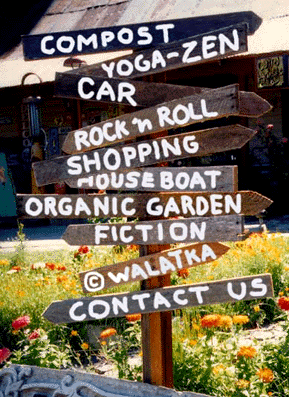 Clickable image. © Pam Walatka 1995, 2010. This imagemap was on the top page of our original site.

---

---
Email Pam Walatka
I launched wildhorses.com in 1995, named after a small company I shared with Sidney Damon and Laney Stephens.
In 2003, Sandy Johan redesigned and reorganized the site. We have followed her design in all our subsequent pages and sites.
In 2005 I spilt the site into sevral sites:
This site, pamsyogafitness.com
Peter Portugal Automobile Design and Fabrication
Esalen Photographs from the 1960s
Gestalt Golf
Lazy Compost
Wild Horses
Beach House Nicaragua
I hope you enjoy these pages. Hello out there!
--Pam Portugal Walatka
---
Here are links to some of my work:
In case you are wondering if I am the Pam you know, here is my bio in brief: Born in Santa Rosa, California in 1942, twin brother Peter and little sister Nancy. Santa Rosa High School class of 1960. U.C. Davis, 60-61. Grad U.C. Berkeley 1964. Peace Corps Nepal IV 64-65. Esalen Residential Program 1967-68. Started teaching Esalen's first yoga class 1968. Member, Esalen Flying Circus. Married Jerry Walatka 1982. Gave birth to Sarah, now Sarah Dorothy Minkow 1984. Technical writer-editor for NASA 1987-2003, and 2012-2013. Bullis-Purissima PTA Board 1989-1996. Freelance writer for Los Altos Town Crier, 2005-2011. Columnist for Los Altos Patch 2010-2011. Yoga teacher at Los Altos Hills Rec. Dept. 2005-present. Yoga teacher at Los Gatos Saratoga Recreation 2012-present. All well here, hope same there.
---