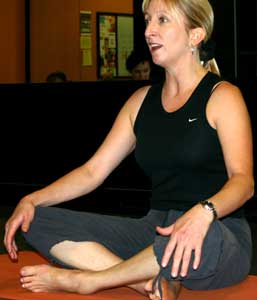 Soulders & Neck
Lean your head toward your left shoulder. Maximize the distance between your right ear and your right shoulder. Then stretch the other way.
Let your head roll in an arc from one side forward and to the other side. Repeat several times, breathing.
Circle your shoulders up and forward. Then circle them up and back.
Pull your shoulder blades together, as though you were holding a pencil between your shoulder blades. Then relax and repeat.
Next
Please be careful. Let your body be the boss of your yoga. A good stretch should feel good--avoid anything that causes sharp pain. When you feel comfortable in a pose, push yourself a bit until you feel challenged.
These lessons are free. Use them cautiously and at your own risk.
---
You can do these yoga/pilates poses in any order you want, or just click on the "Next" button (above) to get the recommended sequence.
© copyright Pam Portugal Walatka, 2017 with Nancy Portugal Jamello.
---





Please send me your comments and questions:
Click here to email Pam

Nancy Portugal Jamello's Hatha yoga classes
in Saratoga and San Jose

Pam Portugal Walatka's yoga fitness classes
in Los Altos Hills and Los Gatos mountains
---
---
---

---
---
---
---
---
---